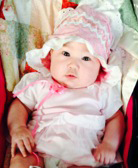 Karonhiaráhstha's Post-Secondary Memorial Scholarship was created in memory of Karonhiaráhstha Sky Junie Delisle, born August 1, 2013, a healthy baby girl to Carla Skye and Iohahí:io Delisle. In December of the same year, Karonhiaráhstha and her family took a vacation to the tropical island of St. Martin. Tragically, on the night of December 27, Carla found her baby unresponsive in their hotel room. The family took all necessary measures in an attempt to revive her, and after a lengthy and complex process to obtain emergency medical services, Karonhiaráhstha was declared deceased. The cause of death was Sudden Infant Death Syndrome (SIDS).
In an article that appeared in The Eastern Door in November of 2014, Karonhiaráhstha's parents gave a heart-wrenching account of the events that took place surrounding their daughter's death. In highlighting the insufficient medical services they received in St. Martin, they had a message to the community: Be grateful for the medical services available in and around Kahnawà:ke.
The death of Karonhiaráhstha was felt community-wide and beyond, as she was featured in Kateri Memorial Foundation's first "Give Where You Live" direct mail campaign, along with Dr. Ojistoh Horn. The goal of Give Where You Live is to support the unfunded needs of Kateri Memorial Hospital Centre, and the second year of the campaign was dedicated in memory of Karonhiaráhstha to raise funds for the "Healing Gardens" which will be built as part of the hospital expansion.
In cooperation with Karonhiaráhstha's family, Kateri Memorial Foundation launched a Christmas tree raffle event named Karonhiaráhstha's Winter Wonderland in December of 2015, which raised more than $30,000 to be set aside for a scholarship fund. As a result, Karonhiaráhstha's Post-Secondary Memorial Scholarship was created to support students pursuing education in the health field, with the hope they will return to work in Kahnawà:ke and ultimately provide better health care in the community.
August 2016 marks the first year of the scholarship fund. Karonhiaráhstha's Winter Wonderland is an annual event which will keep both the scholarship and the memory of Karonhiaráhstha alive.