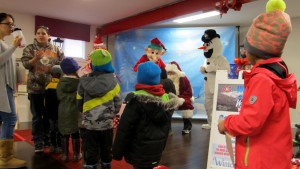 In December 2015, KMF inititated one of its biggest fundraising events,  "Karonhiaráhstha's Winter Wonderland", a Christmas Tree raffle created in memory of Karonhiaráhstha Sky Junie Delisle, who passed away from Sudden Infant Death Syndrome in 2013. Proceeds from this event were put into a new scholarship fund for Kahnawake students who are pursuing their education in health sciences and health related career fields.
The 2nd Annual Winter Wonderland in December 2016 was bigger and better, with 15 trees and many happy winners! The $30,000 in proceeds was divided, to benefit both the scholarship fund and health and safety awareness education and training.
Nia:wen kowa to our sponsors and to our awesome volunteers. Karonhiaráhstha's Winter Wonderland would not be possible without you!
If you would like to be a Tree Sponsor or Event Sponsor for this year's Winter Wonderland, please call the KMF office at 450-633-0276, or find more information here: Winter Wonderland Sponsorship Package
Click here for photos.