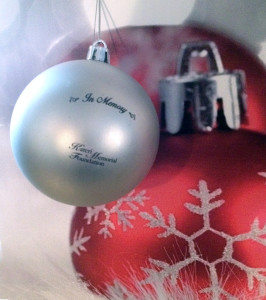 Memorial donations are a meaningful way to honour loved ones and to support the Kateri Memorial Foundation. This holiday season, Christmas memory bulbs were sold during the Winter Wonderland event and were used to decorate the Christmas tree in the lobby of the Kateri Memorial Hospital Center.
Memorial bulbs may be picked up at the KMF office (located on Old Malone Highway) from Monday to Friday, 9:00 am to 4:00 pm.
2017 Christmas Memorials
Marie Cross
Boy Cross
Ray Cross Jr.
Carole Taylor Love & Miss You
Suzie & Freddie Stacey Konnoronkwa
Mary Cross Love You
Boy Cross Love You
Boy Cross missing you
Mary Cross missing you
Bryan Cross missing you
Ray Jr. Cross missing you
Bryan Cross Love you
Ray Jr. Cross Love you
Barbara Kirby Miss you
Debbie McGregor Love you miss you
Lillian McGregor Loving Memory
Mike Donegani Miss You
Louis, Cheryl, Angus Patton
Ida Philllips Mom miss you
Watio & Louisa Bordeau Miss you
Konwen:ni & Tahaiahse Gilbert 
Paddy Mayo Love Vanessa
Lloyd Whitebean Love & Miss you
Norma Deer I Love You 
Sonny Goodleaf Miss You
Dorthy Horne Jacobs
Mariette Cappuccilli Frances
Marie Bordeau Ma & Daddy miss you
Ray Cross Jr. Love you Daddy
The Thomas Family Miss all of you
Fielding Horn love you always
Louie Alfred missing you
Darren Alfred missing you
Melwyn Alfred missing you
Marie & Mary Ann Delisle missing you
Carlene Sky
Bobbie Ireland Love from Susan
Mom Love from Susan
Rayven Lahache Love Dad
Herby Lahach Sr. Love Kobey, Meadow, Storm
Helen Kennedy
Memo Simpson
Laurette Phillips Love Grandchildren
Baby Rowen, Our Special angel – love Grandma & Grandpa
Warren Stacey –My loving Son
Vincent Tapp missing you Dad
Rayven Lahache Love Mom
Carol Beauvais Love Janice
Angela Jacobs –Love you
Paul & Edith Lahache –Love & Miss You
George Lahache –Miss you
Randy Dudek
Chuck & Louise
Elizabeth Diabo Mayo –miss you
Nakota Love Joey
Louise Cross Jacobs Love Grand kids
Doris Pie White Love Grand kids
Brenda Thomas Love Courtney
Patricia Quinonen Love Courtney
Clive Delisle Love Courtney
Kimberly Peltier Love Courtney
George Hill –Miss you
Donald Beauchamp miss you
Aronhiatekhá Marquis
The Robertsons & The Kanes
Sose Love Angeline
Elenore Diabo McComber Miss you
Harry O. Jr
Linda Stacey O.
Adam –Miss you