THE KATERI MEMORIAL FOUNDATION annually awards the George and Tillie Cramer Scholarship, a $1000 bursary, to a Native Woman of Kahnawake pursuing higher education in the field of health sciences. The first scholarship was awarded in 1993.
To appreciate this scholarship, a small historical background about the Cramer's experience in Kahnawake was received from one of their grandchildren: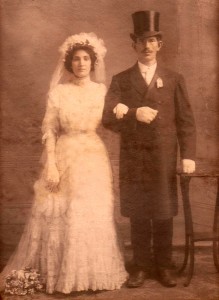 George and Tillie Cramer were born in a small town in Poland at the end of the last century.  They were forced to leave their homes because of rioting, poverty and the general oppression of the Jewish people.  They came as teenagers to Canada where they found work and were able to marry.  After saving for some time, they opened a small store in Kahnawake.  Though George spoke some English, Mohawk was Tillie's first Canadian language!  They got along well with their Kahnawake neighbours – mostly women, children and older men.  The young men were off building bridges and high rises. Business was good. When the men came home they came over to the store to settle the family's debt. Tragedy struck.  In 1907, the Quebec Bridge collapsed and the men working on it went down with the bridge.  In the ending chaos, Tillie and George had to leave.
Though they left the reserve and settled again in Lachine, the memories of their first start in business in Kahnawake remained. Their daughter Ida grew up on stories of what it was like in Kahnawake.  She knew how grateful her parents were to be able to start a new life in Canada.  It was their wish to return to the community a measure of what they received.
In that spirit, Ida Cramer left money in her will to be used as a bursary to a Mohawk woman pursuing a career in the health sciences.  She hoped this would be one link in a tradition to extend a helping hand to a friend at the beginning of their career.
The Kateri Memorial Foundation is proud to participate and support this Educational Award.
The $1,000 scholarship will be awarded annually for the fall semester, until 2021. The recipients for 2017 are Montana Diabo, Veterinary Science, and Kim Martin, Nursing.